Category Archives:
Reformed
Below is a full text of Luther's 95 Theses:
Out of love for the truth and from desire to elucidate it, the Reverend Father Martin Luther, Master of Arts and Sacred Theology, and ordinary lecturer therein at Wittenberg, intends to defend the following statements and to dispute on them in that place. Therefore he asks that those who cannot be present and dispute with him orally shall do so in their absence by letter. In the name of our Lord Jesus Christ, Amen.
1. Our Lord and Master Jesus Christ, in saying, "Repent ye, etc.," intended that the whole life of his believers on earth should be a constant penance. read more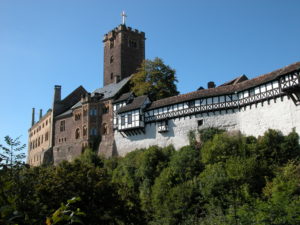 A safe stronghold our God is still
Author: Martin Luther (1529); Translator: Thomas Carlyle (1831)
Tune: EIN FESTE BURG
1 A safe stronghold our God is still,
a trusty shield and weapon;
he'll keep us clear from all the ill
that hath us now o'ertaken.
The ancient prince of hell
hath risen with purpose fell;
strong mail of craft and power
he weareth in this hour;
on earth is not his fellow.
2 With force of arms we nothing can,
full soon were we down-ridden;
but for us fights the proper Man
whom God himself hath bidden.
Ask ye who is this same?
Christ Jesus is his name,
the Lord Sabaoth's Son;
he, and no other one,
shall conquer in the battle. read more